Which APICS Certification is right for me?
Supply Chain Education provides three official APICS courses.
CSCP covers the whole end-to-end supply chain management.
CPIM focuses on planning and sourcing.
CLTD focuses on delivering and returning.
CTSC focuses on strategies for end-to-end supply chain transformation.
Each course has individual requirements, benefits, and outputs.
See our visualization and comparison of the courses to determine which course is right for you.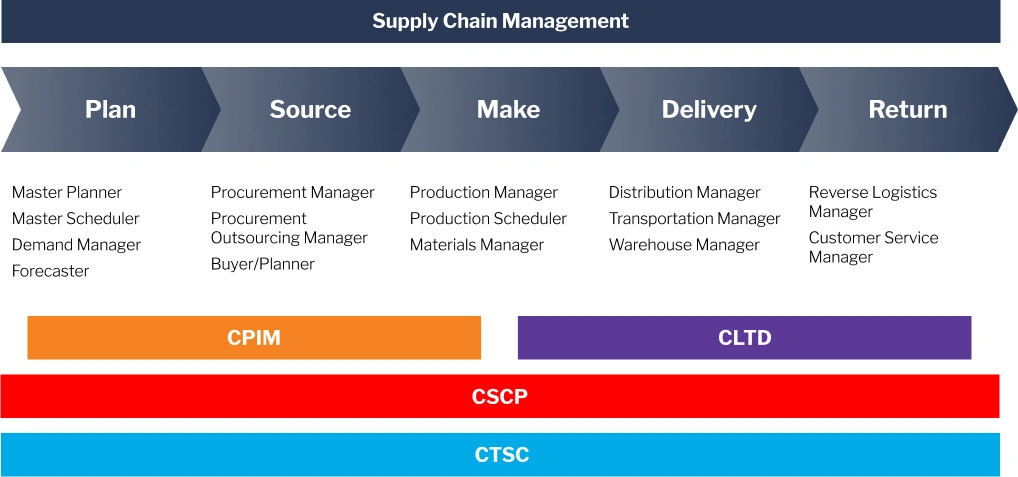 Those who are ambitious or in a position of Supply Chain Manager, Operations Manager, COO, Plant Manager usually choose CSCP.
Comparison of our APICS courses
Certified Supply Chain Professional
Streamline production and cut costs by strategically looking outside internal operations and throughout the entire supply chain.
Focus on whole end-to-end supply chain management
Extend beyond the organization
4 mentored course days
Certified in Planning and Inventory Management
Earning the APICS CPIM demonstrates mastery of an organization's internal operations and an in-depth understanding of materials management, master scheduling, forecasting, production planning and how it applies across the extended supply chain.
Focus on planning and sourcing
Work more productively with your company's processes and initiate continous improvement activities
4 mentored course days in each part
Certified in Logistics, Transportation and Distribution
Increase efficiencies in distribution and warehousing to optimize movent of products to the end customer.
Focus on delivering and returning
Covers whole industry
4 mentored course days
Certified in Transformation in Supply Chain
Increase strategic knowledge and skills to support the successful transformation of supply chains.
Focus on strategies for end-to-end supply chain transformation 

Using global standards

4 mentored course days 
Chose the study style that suits you best
Supply Chain Education deliveres globally recognized APICS certifications, end-to-end learning and development with our industry experts and global standards to transform your supply chain.
Supply Chain Education helped me really a lot with proper certification program, finally we decided for CSCP and I don't regret at all. Whenever I have any question, it was really easy to reach them and get proper answer very soon, even no issue with online connection after 8 PM.

Rob is very experienced and professional lector, very passionate about logistics and supply chains. His stories from real life helped me a lot to understand the themes and remember them after the lessons.

Due to the covid situation we had 10 lessons in Zoom platform on weekly basis from 9:00 to 12:30, it was very convenient. It was first time to have such a difficult topics in English for me, before the first lesson I was little bit scared about the internet connection and if I will keep the pace with the group and with Rob as a Dutch lector, but it wasn't an issue at all.

I believe all of this lead to my successful exam, although it took lot of selfstudy hours as well.
I had a pleasure of taking a CSCP training in a study group guided by Rob van Stratum in the summer of 2014. Rob has a great skill of presenting complex concepts in an understandable and easily memorable form, as well as put them in a relevant practical business context.

The notes made during these sessions gave me leads to deepening the knowledge in particular areas. And when I had a need to clarify some topics, Rob has been exceptionally responsive and provided additional comments to my questions even at a much later time after the courses. I appreciate a lot Rob's willingness to support his students and lead them to a successful passing of the challenging CSCP exam.
I joined the CPIM II remote individual courses with SUPPLY CHAIN EDUCATION s.r.o. and the overall experience was awesome. The service enables you to accommodate the studying slots in your busy working schedule and is flexible to change.
The instructor, Rob, is very nice, experienced and is always there to support you that you are well prepared for the exam. The convenience and effectivity of this course is just unchallenged.

Recommended to everyone who seeks to pass the CPIM exam!
I am glad to be a part of the APICS family. This certification for sure upgraded my skill set so now I can be more effective and perform my job much better.
This course was a great starting point for my professional knowledge and my career. I can highly recommend this training to everybody in the field.
I would recommend APICS training to all supply chain managers who are interested in making an impact and who want to improve their understanding of the supply chain. We found Rob and Ana to be excellent at delivering the APICS message and keeping the students engaged.
I participated in the class sessions held in Basel in order to prepare for the CSCP exam with Rob. I remember Rob as a very kind and knowledgeable person. The class was very interactive and he provided a great summary of the key topics with real examples. Thanks to this approach, my learning curve went up faster and I could be well prepared for the rest of the studies.
Do you want more information or wish to sign up for a course?
Don't hesitate to contact us. Our team of experts is at your disposal.